Denyeko, Catherine W (2018) Learning Psychology. Project Report. African Virtual University (AVU).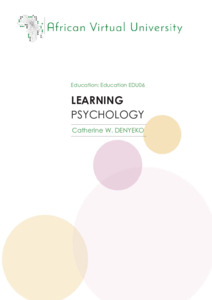 Preview
Text




LEARNING PSYCHOLOGY..pdf

- Published Version
Available under License Creative Commons Attribution-ShareAlike (CC BY-SA 4.0) .
Download (709kB) | Preview
Abstract
Welcome to this module titled Learning Psychology. In this module our focus will be on human learning. Human learning is not an entirely new topic to you since it was discussed at introductory level in the General Psychology unit and also in Developmental Psychology. Learning is undoubtedly one of the most important parts of psychology for the simple reason that most, if not all, human behaviour is either learned or is influenced by learning. A basic understanding of the behaviour of human beings therefore calls for basic knowledge of the basic psychological principles, concepts and approaches in classroom teaching and learning. The other factors that influence learning are inheritance, but this is beyond the scope of this module. The real test for mastery of competence lies in being able to apply the principles covered in theory in solving your day –to –day teaching problems. To the extent that you are able to apply these principles or at least relate them to what you have experienced in the field, will you have gone a long way in meeting the objectives of this course.
Actions (login required)