Tchameni Ngamo, Salomon (2018) ICT Integration in Chemistry. Project Report. African Virtual University (AVU).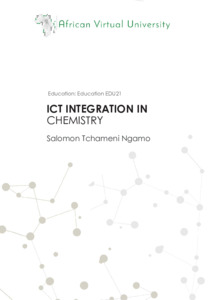 Preview
Text




ICT_ Integration_IN_Chemistry_FV.pdf

- Published Version
Available under License Creative Commons Attribution-ShareAlike (CC BY-SA 4.0) .
Download (1MB) | Preview
Abstract
Information and communication technologies (ICT) have become one of the fundamental building blocks of modern society. Many countries now regard the mastering of the basic skills and concepts of ICT as an inevitable part of the core of education. To this end, various new models of education are evolving in response to the new opportunities that are becoming available by integrating ICT and in particular Web-based technolgies, into the teaching and learning environment. The effective integration of such applications however, depends to a large extent on teacher's familiarity and ability with the IT learning environment. Science teachers need to know exactly how ICT is used as a teaching and learning tool, for their own purposes and to help students to use them. This module is about the integration of ICT as a tool in the chemistry/science classroom with the overall aim of increasing the effectiveness of teaching and improving students' learning. The module outlines a programme of objectives and related activities for an ICT-enhanced learning environment in chemistry teaching and learning.
Actions (login required)