Enosi, Ssemanda (2018) History of Education. Project Report. African Virtual University (AVU).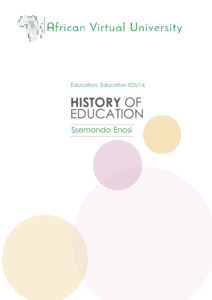 Preview
Text




History of Education.pdf

- Published Version
Available under License Creative Commons Attribution-ShareAlike (CC BY-SA 4.0) .
Download (801kB) | Preview
Abstract
You are welcome to this Module in History of Education, which covers part of the course in Professional Education Studies. To understand the meaning of History of education, you need to know the key words, History and Education. Perhaps you are aware that History is a study of past events and developments some of which may have occurred many years of ago or might have taken place in the recent times. On the other hand, education can be defined as a process of teaching and learning. More about this will be examined in the module later. History of education is therefore a study of the past that focuses on educational issues. These include education systems, institutions, theories, themes and other related phenomena.History of Education is of fundamental importance to a professional teacher. We have noted that the study deals primarily with the past events and developments in education. However, this should not be looked at in isolation. This is because the past is closely linked to the present and the later influences the future. When you study the past, you are able to understand the process of education and how it evolved up to the present. In this way, the present not only becomes clear but also helps to illuminate the future. Note that the education arena is a broad one. It encompasses philosophical, sociological, comparative, administrative, curricular and other issues. Each of these may have a historical dimension or perspective. It is envisaged that this Module will help you to understand History of education in particular and Professional Education Studies in general.
Actions (login required)