Okumu, Auma (2018) Introduction To General Psychology. Project Report. African Virtual University (AVU).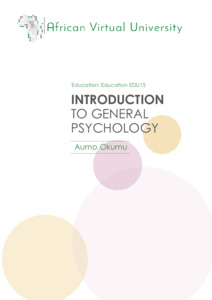 Preview
Text




Introduction to Genera lPsychology.pdf

- Published Version
Available under License Creative Commons Attribution-ShareAlike (CC BY-SA 4.0) .
Download (583kB) | Preview
Abstract
You are welcome to this module that introduces you to General Psychology first and later Educational Psychology. There are four units in all. A total of 120 hours is given which we think should be adequate for you to complete the module. The hours given should also cover the different activities as well as doing the readings that are included. A summary of the major tasks in each unit is presented for your benefit: Unit one introduces you to the meaning, definition, origin and development of Psychology as a field of study, the different branches, concepts and their relevance to the educational process. Finally, the unit introduces you to the concepts and different methods of study that are used in Educational Psychology. Unit two discusses the relationships between Psychology and Education, and their implications to a practising teacher. The contributions of Educational Psychology to educational practice are also presented. Unit three presents your issues of methods of study used in conducting studies in Educational Psychology. The advantages and disadvantages of each method are also discussed. Unit four introduces you to the benefits of Educational Psychology to the teacher, and to the educational process/practice in a school setting and society in general.
Actions (login required)