Enosi, Ssemanda (2018) Contemporary Issues in Education. Project Report. African Virtual University (AVU).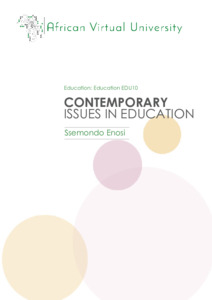 Preview
Text




ontemporary Issues in Education.pdf

- Published Version
Available under License Creative Commons Attribution-ShareAlike (CC BY-SA 4.0) .
Download (2MB) | Preview
Abstract
You are welcome to this Module in Contemporary Issues in Education, which is a part of your Professional Studies in education. To understand the content in this Module well, you need to grasp the meaning and major critical areas that constitute the concept of Contemporary Issues in Education. The word contemporary means modern, current, present-day or existing. In this context, Contemporary issues in Education refer to the various events, policies and developments of an educational nature which exist in the modern world. Most of these are influenced by the changes and initiatives caused by modern trends and innovations in Education, Science and Technology, the spread and Influence of Information and Communication Technologies, among others. At the same time, many societies, like those in Africa, experience widespread poverty, inadequate funding and facilitation in education, health, infrastructure and other related areas. Similarly, civil strife, political turbulence and socio-cultural issues also impact strongly the modern world. In the area of education, the above phenomena influence elements of access, quality, equity and relevance in education. Using your country as an example, ask yourself the following questions: What are the major challenges that face the education system in my country at the moment? Is there equal distribution of educational opportunities for everybody regardless of one's social, economic or political status (whether poor or well- to- do, young or old, female or male, rural or urban, etc.)? Why? What can be done to improve access and quality of the existing education system? How are these issues being addressed in the country? Are there any successes or failures? Why? etc. Note that the answers to the above questions vary from one country to another and, change as time goes by. This variation is also reflected in the Contemporary Issues in Education. Indeed they are diverse in terms of causes, magnitude, impact and other dynamics. However, there are a number of current issues that are of critical concern to the world in general and Africa in particular. In this Module, you will be introduced to some of the Contemporary Issues in Education that are of critical concern to your country and to the African Continent as a whole in this new Millennium.
Actions (login required)