Okumu, Auma (2018) Introduction to Guidance and Counselling. Project Report. African Virtual University (AVU).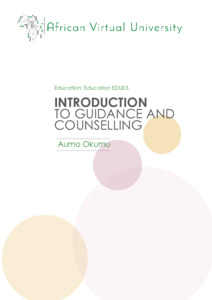 Preview
Text




Introduction to Guidance and Counseling.pdf

- Published Version
Available under License Creative Commons Attribution-ShareAlike (CC BY-SA 4.0) .
Download (915kB) | Preview
Abstract
As a prerequisite to study this module you need to have some background knowledge of human growth and development and the different stages that a child goes through whilst growing up. These stages are infancy, early childhood, adolescence and early adulthood. The knowledge about these areas makes it possible for you to understand the relevance and application of Guidance and Counseling to help learners overcome life challenges and associated problems that face them both inside and outside the school environment. You also need some background knowledge about the social, moral, and personality development and the general socialization processes that influence young people as they interact with their environment. This interaction between the individual and the environment can impact positively or negatively. You may also need to be conversant with the processes that go in education, issues connected with quality education, the education of the girl-child, factors that make children drop-out of schools, and those connected with high or low performance, emotional issues or development or career aspirations. This means that you as their teacher and counsellor have a lot to contribute to the wellness of these learners and their future successes. The knowledge and skills of guidance and counselling are useful in helping them. You may at this opportune moment be thinking how inadequate you are as far as guidance and counselling is concerned. This module is designed to equip you with the knowledge and skills to become good and effective guidance and counselling teacher in the school. As you go through this module, it is very clear that you are becoming an agent of change'. Guidance and Counseling are 'all about change.' In school, there are young people of different ages, sex, interests and life orientations. They all need some kind of proper guidance so that they can change without any pressure exerted on them. Since they are young, lack real-life experience about life in general, are unaware of themselves, they do not in any way know how to bring about changes nor understand their implications on their lives. Among them are those who may resist change because they are already tuned to a particular approach to life, or are accustomed to what life means to them, and therefore would not like to change at all. This is the core of what you are about to begin doing when you have completed the course. You are going to work with them and endeavour to cause desirable adjustments in them. These changes that are anticipated will be a reflection that you will have imbued them with skills of copying and/or what they can do on their own, to make changes in their lives. We live in a world full of rapid changes. These changes are coming about because of the technological developments taking place every now and then. Traditional cultures, beliefs, values and social relations in traditional societies are being eroded very quickly by foreign cultures, through television, internet, magazines, music and other toxic influences. All these rapid changes lead to confusion and uncertainty among young people. These rapid changes leave us all confused to the extent that we do not know what to do, or the next step to take. This is when your knowledge and skills in counselling become very handy to all of us. How all of us, including your students, will change will depend on your ability to conduct guidance and counselling, notwithstanding our differences in terms of interest, personality, cultural background and life circumstances. As a teacher-counsellor, you have embarked on another journey—a journey to help people, especially the learners to deal with changes that come suddenly and unexpectedly into their lives. Your positive and prompt contributions will in the end make them live an independent, happy and effective life. Before you can do that, you need to acquire the knowledge, skills and competencies for guidance and counselling. Module Five: An Introduction to Guidance and Counseling has been written to enable you to become a good and effective and prolific Guidance and Counselor in the school as well in the community.
Actions (login required)